Is there more to the capture of Khalid Shaikh Mohammed than meets the eye?
Home >> War on Terrorism >> September 11 >> Articles >> Complete Timeline Home >>



Khalid Shaikh Mohammed was captured in Rawalpindi, Pakistan on March 1, 2003. General elation greeted the news. Porter Goss (R), chairman of the House Intelligence Committee, even proclaimed, "This is equal to the liberation of Paris in the second World War." [AP, 3/2/03 (C)] But it's not that simple. Frankly, the official story of his arrest is a mass of lies, cover-ups and contradictions. It is highly likely Mohammed was not arrested on that day. What exactly did happen is unclear, but the details of his arrest suggest something very disturbing is going on.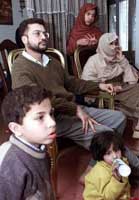 Family members who live in the raided house. [AP]
Was Mohammed Actually Arrested in Rawalpindi?
One doesn't have to dig deep to find contradictions to the standard story of Mohammed's arrest. The Guardian article, "Raided Family of Microbiologist Denies Official Version of al-Qaeda Arrests," details what witnesses saw when the police came. [Guardian, 3/3/03 (B)] The family in the house claims that at 3 a.m., around 20 to 25 armed police and intelligence officers kicked open the door and burst into the house. "They dragged away Ahmed and held his wife and children at gunpoint for an hour as they ransacked the house," Ahmed's sister Qudsia told the Guardian of London. "They left clothes and books strewn on the floor and took a bundle of dollar bills which were locked in a cupboard. The bedrooms were turned upside down, one door upstairs was broken and they took the new computer." The newspaper explained that according to the family, "at no point was Mohammed or any other man in the house. The agents did not even ask about them." "The only people in the house were my brother, his wife and their kids. I have absolutely no idea why the police came here," Qudsia said. [Guardian, 3/3/03 (B)] The brother, Omar Qudoos, gave a similar account. He added that there also was a guard outside. "The police pounded on the gate and then they rushed through. There was some firing, but no one was hurt and then they beat the guard and broke the lock on the front door." [AP, 3/2/03] Other articles reported roughly the same account. [AP, 3/2/03 (B), Australian Broadcasting Corp., 3/2/03, New York Times, 3/3/03]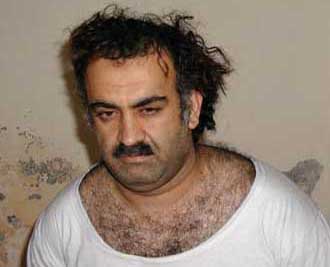 Khalid Shaikh Mohammed after being arrested. [AP]
Other arrests of major al-Qaeda figures haven't been accompanied by these types of contradictory accounts from eyewitnesses. However, most accounts of Mohammed's arrest have mentioned the eyewitness reports only in passing. Also generally mentioned only in passing are doubts that Mohammed was arrested at all. As one report put it, "Some analysts questioned whether Khalid Sheikh Mohammed had actually been arrested on Saturday and speculated he may have been held for some time." An unnamed source said, "I think he was arrested several months ago in the shoot-out in Karachi" [Australian Broadcasting Corp., 3/2/03] And MSNBC added to the skepticism reporting, "Some analysts questioned whether Mohammed was actually arrested Saturday, speculating that he may have been held for some time and that the news was made public when it was in the interests of the United States and Pakistan." [MSNBC, 3/3/03]
Well-respected journalist Tariq Ali also has serious doubts that Mohammed has been arrested: "Who he is and how he was captured is still shrouded in mystery. ... But as to who he is and what his exact role is, we are dependent totally on intelligence sources, as all the newspapers indicated today in the Western world." [Australian Broadcasting Corp., 3/3/03] When asked if a different man might have been arrested, Ali responded, "Well, we do not know. At the moment we have absolutely no evidence at all. Reports from Pakistan are coming out from what are described as Taliban sources, i.e. members of the former government in Afghanistan who are now around in Pakistan, who are denying that he has been captured and saying, 'We know exactly where the guy they're claiming to have captured is,' and until he is produced before a court of law or interviewed or allowed access to the press or lawyers, we will not know who he is." [Australian Broadcasting Corp., 3/3/03]
Mohammed Had Already Been Killed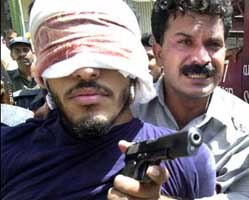 Apparently this is Ramzi bin al-Shibh being taken into custody. [AFP]
Why are some writers so harsh in their assessments? A large reason, as one of the unnamed experts mentioned above points out, is a very curious shoot-out in Karachi, Pakistan, on September 11, 2002. Ramzi bin al-Shibh, the man who wanted to join the 19 hijackers but was unable to get a US visa, was captured at the end of a four-hour battle involving thousands of police. Nine other suspected terrorists were captured, and two were killed. [Telegraph, 9/16/02] The capture of bin al-Shibh was hailed as a major victory, but it was accidental: "Pakistani intelligence and police officials now admit that the man they were actually looking for that day was Khalid Shaikh Mohammed...," reported one account. [Christian Science Monitor, 10/29/02, Guardian, 9/23/02]
"Afterward, and still, Karachi was thick with rumor. Mohammed was dead, was captured, was there and got away, was there and was allowed to get away." [Los Angeles Times, 12/22/02] And tge Asia Times claimed Mohammed was killed. They reported that the FBI together with Inter-Services Intelligence, or the ISI, Pakistan's notorious intelligence agency, conducted a raid aimed at capturing Mohammed alive. "However, despite instructions to the contrary, a few Pakistan Rangers entered the flat, where they found Shaikh Mohammed and another man, allegedly with their hands up. The Rangers nevertheless opened fire on the pair. ... Later, the Pakistani press carried pictures of a message scrawled in blood on the wall of the flat, proclaiming the Muslim refrain of Kalma, in Arabic: 'There is no God except Allah, Mohammed is his messenger'). An official who was present in the flat at the time of the shooting has told Asia Times Online that the message was written by Shaikh Mohammed with his own blood as his life drained from him." His wife and two children, captured in the raid, confirmed his identity. [Asia Times, 10/30/02] An Australian newspaper repeated that the view that he was killed, and added, "Some reports went so far as to suggest his wife and son had identified his body and buried him under the watchful eye of the FBI." [Daily Telegraph, 3/4/03]
The Christian Science Monitor has also suggested something similar: "'We had some information that terrorists were there [at the apartment]. An encounter ensued and two men were killed' ... says Sayed Kamal Shah, the police inspector-general for southern Sindh province. Some say Shaikh Mohammed may have been one of the two men killed in the shoot-out, though authorities say they have not identified either body. Muslims bury bodies within 24 hours, and Pakistan's forensics services tend to be inadequate." [Christian Science Monitor, 10/29/02] Four days after the incident, US National Security Adviser Condoleezza Rice, when asked if Mohammed was killed, could only say, "I wouldn't rule anything out here, but I think that we'll just wait and see how this unfolds." Pakistani President Pervez Musharraf enigmatically told CNN, "I am told, maybe, there is an important person [besides bin-al-shibh]." [Telegraph, 9/16/02] But the identity of this "important person" has never been revealed - was Musharraf referring to Mohammed?
"Pakistani police officers at the scene initially insisted that one of the dead men was an Arab, naming him as Khalid bin Mohammed." [Telegraph, 9/16/02] Time Magazine later offered an explanation for what they deemed was a misidentification: "A female FBI agent crouched down to examine the blood-smeared bodies [killed in the raid]. Suddenly, she smiled and, to the surprise of [a] Pakistani cop, bounded over and gave him a kiss. 'Do you know who you've got?' she asked. 'You've killed Khalid Shaikh Mohammed.' But a fingerprint check later revealed that the dead man on the floor of the Karachi apartment wasn't Mohammed. The FBI was almost as crestfallen as the Pakistani cop dreaming of how he would spend his piece of the $25 million reward offered by the US Government for Mohammed's capture." [Time, 1/20/03]
Or Was He Captured Then?
It was reported that, near the end of the shoot-out, "Within minutes, a burly, curly haired man was brought out with his entire face covered by a blindfold. Hundreds of policemen fired off volleys of gunfire to celebrate his capture. The final gunman was captured shortly afterward." [AP, 9/16/02] Certainly Mohammed is a burly, curly haired man. Other reports suggest that police came "within moments" of capturing Mohammed, as one senior US investigator put it, his two children being left behind. [Los Angeles Times, 12/22/02] It has also been suggested he was shot and wounded by a police sniper as he narrowly escaped. [Australian Broadcasting Corp., 3/2/03]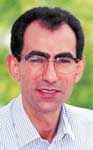 Reporter Yosri Fouda.
Or Was He Captured Months Before?
A few days before this shoot-out, a number of articles in the Pakistani and Indian press suggested that Khalid Shaikh Mohammed was actually captured on June 16, 2002. Supposedly he was then sent to the US, though the US and Pakistan deny the reports. [Daily Times, 9/9/02, Times of India, 9/9/02, Economic Times, 9/10/02] This month was also the month Al Jazeera reporter Yosri Fouda says he had a secret interview in Karachi with Ramzi bin al-Shibh and Khalid Shaikh Mohammed (though one account says it took place two months later) [Guardian, 9/9/02]) [Sunday Times, 9/8/02]. Could both of these men have been captured or killed before the famous interview, thus allowing US intelligence to put any words they desired into their mouths? The interviews were "the first full admission by senior figures from Bin Laden's network that they carried out the September 11 attacks." [Sunday Times, 9/8/02] The Financial Times, hardly purveyors of conspiracy theory, reported on Fouda's interview, "Analysts cited the crude editing of the tapes and the timing of the broadcasts as reasons to be suspicious about their authenticity. Dia Rashwan, an expert on Islamist movements at the Al-Ahram Centre for Strategic Studies in Cairo, said: 'I have very serious doubts [about the authenticity of this tape]. It could have been a script written by the FBI.'" [Financial Times, 9/11/02]
Alternately, either or both could have been captured shortly after the interview because of clues learned during the interview. It has been reported that bin al-Shibh's recorded voice was the key that led to his capture. [CBS, 10/9/02, Observer, 9/15/02] Fouda has been accused of betraying al-Qaeda, and now fears for his life. [Independent, 9/17/02] As the Washington Post put it: "Now al Jazeera is also subject to rumors of a conspiracy." [Washington Post, 9/15/02]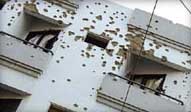 Rounds fired in the building where Ramzi bin al-Shibh was captured. [Marcella Gavirina]
How can one square the September 11, 2002, shoot-out with reports that Mohammed was already captured? Perhaps the shoot-out was a charade to cover the earlier events and preserve the legitimacy of the Fouda interview. Curiously, a PBS reporter says, "Some neighbors told me the men in the apartment didn't fire any shots at all." He says those comments were off, though not by much. He suggested the terrorists fired only a little, despite reports of being heavily armed. By contrast, thousands of police may have fired thousands of rounds at them. [PBS Frontline, 9/23/02]
Or Was He Not Captured At All?
Robert Fisk, another very well known and respected journalist, has yet a different idea. In an article entitled, "Was 'Mastermind' Really Captured?," he suggests Mohammed could still be alive. He writes, "In the theatre of the absurd into which America's hunt for al-Qaeda so often descends, the 'arrest' - the quotation marks are all too necessary - of Khalid Shaikh Mohammed is nearer the Gilbert and Sullivan end of the repertory." He calls it "a case of the 'whoops' school of journalism: a good story that just might be totally untrue." [Toronto Star, 3/3/03]
Contradictions
Much of the above is rumor or speculation. But certainly there is room for doubt amid all this intrigue. To hide Mohammed's death or capture would have been very clever espionage that could have led to the arrest of many of his associates. But someone has been sloppy as well, because there is virtually no aspect of Mohammed's arrest that hasn't been contradicted in media reports.
Where Was He Before the Arrest?
Most accounts say that Mohammed was moving around Pakistan to avoid capture. [Washington Post, 3/2/03] In early February 2003, he was hiding in the town of Quetta. Neighbors, wary of the unknown Arab man living amongst them, tipped off the police. He narrowly escaped capture there around February 14, but phone records led investigators to his hideout in Rawalpindi. [Time, 3/1/03, AP, 3/2/03 (B), New York Times, 3/4/03] However, "authorities" told the Washington Post that Mohammed was in the Rawalpindi house since January, and Pakistan's interior minister, Syed Faisal Saleh Hayat, said Mr. Mohammed had been hiding in the Rawalpindi house "for quite some time." [New York Times, 3/3/03, Washington Post, 3/2/03] Curiously, the US has offered a $25 million reward for information leading to Mohammed's arrest, but US officials now say that no one will receive the award "because he was arrested based on intelligence gathered by a joint effort by the CIA and Pakistani law enforcement." [ABC News, 3/3/03] What about the neighbors' tips that led to his arrest - does this suggest there were no neighbors?
It was said that US phone surveillance led Pakistani law enforcement to Mohammed. [Los Angeles Times, 3/2/03, Washington Post, 3/2/03] But in contradicting this and the "neighbor tip off" story is another account from unnamed "intelligence sources" who say "the ISI had known of his whereabouts for up to six weeks prior to his arrest." Supposedly they waited to arrest him so they could see who contacted him and catch them as well. [Financial Times, 3/4/03]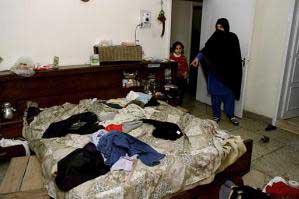 The bedroom of Ahmed Abdul Qudoos. [AP] Photo captions say this is where Qudoos was arrested, and say nothing about Mohammed.
Where Was He Arrested?
Remarkably, even the widely reported fact that Mohammed was arrested in the house of Ahmed Abdul Qudoos and his family has been disputed. The Los Angeles Times, quoting unnamed Pakistani Interior Ministry officials, initially reported that Mohammed was arrested in a second raid in a nearby apartment that Abdul Qudoos was renting for him. [Los Angeles Times, 3/2/03] However, bythe next day, the same reporter had dropped this version of events and instead was following all other reports and accounts of officials that all three had been arrested in the same house. [Los Angeles Times, 3/3/03, AP, 3/1/03]
Perhaps the second apartment theory reported by the LA Times was meant to explain the fact that there appeared to be no photos or descriptions of the bedroom or bed supposedly slept in by Mohammed. Photos do show a house in disarray, with possessions strewn everywhere. This would seem to corroborate the family's account that the raid took only one hour. If Mohammed really was in the house, wouldn't agents have gone over the house with a fine tooth comb, and investigated every possession, every room, for possible leads?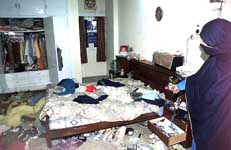 Another view of the bedroom. [AFP]
Was There a Fight?
Pakistani Information Minister Rashid said the three suspected terrorists in the Rawalpindi house put up resistance: "Shots were fired but no one was injured." [Reuters, 3/2/03] An Australian newspaper reported, "Evil al-Qaeda kingpin Khalid Sheik Mohammed battled desperately in the seconds before his arrest - grabbing a gun and wounding one of his captors." [Daily Telegraph, 3/4/03] By contrast, a New York Times article was headlined, "Qaeda Suspect, Sound Asleep at Trail's End, Offers No Resistance," explaining that the only visible sign of violence was the broken down front door. [New York Times, 3/3/03] The family there says there were no shots fired inside the house. [Reuters, 3/2/03] A Pakistani official said they were arrested without incident. [Los Angeles Times, 3/2/03]
Who Arrested Mohammed?
Some Pakistani officials said both US agents and Pakistani security took part in the raid. [CNN, 3/2/03] Other Pakistani officials said it was conducted entirely by armed ISI agents. [Los Angeles Times, 3/2/03, New York Times, 3/2/03] A senior US intelligence official said, "US officials were present when Pakistani authorities arrested Mohammed and two other men, but they did not participate." [CNN, 3/2/03 (B)] Another account explained that CIA and FBI officials were waiting outside. [Telegraph, 3/3/03] By most accounts, the family in the house said some of the agents who took part in the raid "were speaking English and were looking like foreigners from their accent and fair complexion." [Los Angeles Times, 3/2/03, London Times, 3/3/03] Yet, by one account, the family says "all [the agents] appeared to be Pakistani." [AP, 3/3/03 (C)] Are people being misquoted?


Ahmed Abdul Qudoos. [AP]
Who Was Arrested with Him?
It was widely reported that Ahmed Abdul Qudoos, a son in the family owning the house, was arrested with Mohammed. But rarely mentioned are the claims by Ahmed's family that he is not a terrorist and in fact is mentally feeble. They say the 42-year-old has never been able to hold down a job and had lived at home with his parents his entire life. [AP, 3/2/03 (B)] The media was so uninterested in the possibility that this man might be too mentally impaired to be any kind of terrorist, much less a close associate of Mohammed, that the only mention of him having a disability certificate appeared in the photo caption of one article. [AP, 3/3/03 (C)]
Also little noticed were reports that Major Adil Qudoos was arrested the same day in the nearby town of Kohat. Officials said Adil was Ahmed's uncle, but his sister told reporters they were brothers. [Reuters, 3/3/03] By some accounts the Major is being held by the FBI, but he is also said to be held by Pakistan or simply not allowed to leave town. [News, 3/3/03, Reuters, 3/3/03]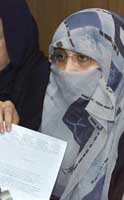 Qudisa Khanum, Ahmed Abdul's sister, shows his disability certificate. [AP]
A third man was supposedly arrested in the house with Ahmed Abdul Qudoos and Mohammed. Initially he was described as an Egyptian. [Reuters, 3/2/03] Later, officials suggested he might be Saif Adel, Osama bin Laden's security chief. [Los Angeles Times, 3/3/03] Then, Interior Minister Faisal Saleh Hayat said the third man was Somali, but gave no details. [Reuters, 3/3/03] Most recently, senior US intelligence officials are claiming the third man is Mustafa Ahmed Al-Hawsawi, a native of Saudi Arabia. He is said to be the main money man behind the 9/11 attacks. [Reuters, 3/3/03 (C), MSNBC, 3/3/03, MSNBC, 3/3/03 (B)] As I have previously suggested elsewhere, and will discuss further below, considerable evidence suggests no such person by this name exists. His supposed presence lends credence to the family's claims that only Abdul Qudoos was arrested and that the other two are fictional. Most recently, it has been reported that according to Pakistani officials, "Mustapha Ahmed al-Hawsawi had been arrested in Quetta, in south-west Pakistan, on 13 February." [Financial Times, 3/4/03] So once again the identity of the third man is confused.
Where Are They Now?
Supposedly, Mohammed and Al-Hawsawi were taken out of Pakistan within three hours of their capture. [CNN, 3/2/03 (B), Telegraph, 3/3/03, AP, 3/2/03 (C), New York Times, 3/3/03] Some US and Pakistani officials have confirmed this. [CNN, 3/2/03, Los Angeles Times, 3/2/03, Washington Post, 3/2/03] However, other Pakistani officials have claimed that Pakistan is still holding them. [BBC, 3/3/03] Interior Minister Faisal Saleh Hayat strongly denied US possession: "Khalid Sheikh Mohammed is in the custody of Pakistan's law enforcement agencies and until we have satisfied ourselves, after the interrogation process, of the nature of his activities in Pakistan, there is no question of handing him over to anyone." [Reuters, 3/2/03] Pakistan further claims that if he is extradited, it will be to Kuwait, the country where he was born, not the US. [BBC, 3/3/03] There have been other conflicting accounts of Abdul Qudoo's whereabouts. It would be particularly controversial to extradite him since he's a Pakistani citizen [Daily Times, 3/3/03, Washington Post, 3/2/03, Reuters, 3/3/03 (B)] (Pakistan seems happy to forget that Mohammed had a Pakistani passport beginning in 1982 [Financial Times, 2/15/03]).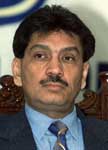 Pakistani Interior Minister Faisal Saleh Hayat. [Reuters]
What Was Recovered with Mohammed?
Officials and the Qudoos family originally claimed that a single computer hard drive, documents, and US dollars were taken from the house. [AP, 3/2/03 (B), Australian Broadcasting Corp., 3/2/03] The family said the single computer had no Internet hookup, and the mentally impaired Ahmed Abdul Qudoos didn't know how to use it. [AP, 3/2/03 (B)] Soon it was reported that authorities were said to have "recovered a huge amount of information about al-Qaeda" from multiple computers, disks, cell phones and documents recovered with Mohammed. [Associated Press, 3/3/03] They very quickly "gleaned crucial information" from a "mother lode" of evidence. [Baltimore Sun, 3/3/03] But it was simultaneously reported that "the computers and cell phones seized during the arrest have not yielded the wealth of information that officials had hoped they would..." [ABC News, 3/3/03]
Even assuming that Mohammed was not captured or killed earlier, it is clear that many possessions of his have already been taken in previous near misses. On September 10, 2002, a raid yielded four laptops, a satellite telephone, and $5,000 in cash, all belonging to Mohammed. [Guardian, 9/23/02] At least one more laptop, as well as some "literature", was found the next day in the raid that captured Ramzi bin al-Shibh. [Christian Science Monitor, 10/29/02] Ramzi bin al-Shibh was known to have been carrying a collection of "souvenirs" of documents related to 9/11 with him [Australian, 9/9/02], which also may have been obtained by authorities that day. Wouldn't such earlier raids have been the real "mother lodes?"
Meanwhile, it has generally been reported that "Mohammed has so far refused to answer any questions." [ABC News, 3/3/03] But the Pakistanis, who may well not even be holding him, after only two days claimed the "suspect is cooperating with interrogators and that his information is being acted upon." [BBC, 3/3/03]
A Delay in Notification
Mohammed was captured around 3 a.m., local time (accounts vary from 2:30 to 4). His identity was confirmed "a few minutes" after his capture by CIA and FBI agents. [Telegraph, 3/3/03, Washington Post, 3/2/03] Yet, supposedly, CIA Director George Tenet did not notify National Security Advisor Condoleezza Rice until midnight, in the Eastern Standard time zone. [Los Angeles Times, 3/2/03] Because of the time zone difference, that meant Tenet waited about eight hours to notify her. It took another seven hours to notify President Bush. [Los Angeles Times, 3/2/03] Perhaps he didn't want to be wakened? Why these delays? Was the time used to determine if all was secure to use the arrest of Ahmed Abdul Qudoos as a cover to falsely claim the arrests of Mohammed and Al-Hawsawi as well?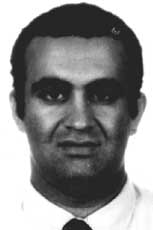 Khalid Shaikh Mohammed, from a 1998 Most Wanted poster.
The Timing of the Capture Helps Bush
One unnamed terror expert claimed to have predicted the arrest, saying that "several weeks ago he believed Mohammed had been arrested and that he expected the news would only be made public when it was in the interests of the United States and Pakistan." [Australian Broadcasting Corp., 3/2/03] One could hardly imagine a more opportune time for Bush to pull out such an ace in the hole. A New York Times article written just prior to the announcement of Mohammed's arrest listed "a host of discouraging weekend developments for the Bush administration." Turkish parliament had narrowly voted not to allow the US to use their country as a staging ground for an Iraq war. The Arab League agreed on a final statement expressing "complete rejection of any aggression on Iraq" while also promising "refusal to participate in military action." France issued a forceful new rejection of a second UN resolution sanctioning war with Iraq. Thousands of antiwar protesters filled the streets in cities in Bosnia, Pakistan, Yemen, Morocco, and Japan, among other places. Organizers said more large demonstrations were planned for next week. Pope John Paul II sent a letter to President Bush arguing against war. Iraq began destroying its prohibited Al Samoud 2 missiles. Iraq also allowed UN inspectors to interview a biological weapons scientist and a missile expert with no minder or tape recorder present. [New York Times, 3/2/03 (C)]
Furthermore, the Observer leaked a document showing the US had been engaging in a "dirty tricks" campaign of spying on UN delegations to help win support for a war on Iraq. [Observer, 3/2/03] The story, posted on the web the same day the Mohammed story broke, led news reports in Europe, but remained unreported in the US. That wasn't the case overseas. The author of the story said he had agreed to interviews with NBC, CNN, and Fox News Channel, but all three later canceled. [Salon, 3/3/03] The story finally began to get limited US coverage once CBS ran it two days later. [CBS, 3/3/03] Did the capture of Mohammed - headlines for two days - help obscure the "dirty tricks" story, as well as all the other bad news?
The Independent had a story titled, "Arrest May Silence Critics of War on Terrorism." [Independent, 3/4/03] As the New York Times put it, "Mr. Mohammed's arrest suggested that American counterterrorism agents were capable of significant direct action after months when the government's security apparatus seemed caught in the throes of reorganization." [New York Times, 3/2/03 (B)] "The arrest came as Americans had been expressing diminished confidence in the nation's ability to defeat al-Qaeda.... Democrats and other critics have complained that Bush has allocated too much attention and resources to preparing for an invasion of Iraq at the expense of the war on terrorism." A pollster pointed out that "Bush's approval ratings are really held up by views on how he deals with the war on terrorism," and that Mohammed's arrest would be a "shot in the arm" for Bush's ratings. [Baltimore Sun, 3/3/03]
The timing was so fortuitous that the New York Times ran a front-page headline: "Major Catch, Critical Time." [New York Times, 3/2/03 (B)] In fact, some hinted it was more than just luck. For instance, Tariq Ali wrote: "The timing of this is quite interesting. Just as the US Government was coming under criticism for not doing anything about the actual terrorists and being too distracted by the war in Iraq, suddenly, hey presto, the intelligence in Pakistan supplies them with a prisoner they've been looking for." [Australian Broadcasting Corp., 3/3/03] The Independent called the "immaculate timing" a "mystery." [Independent, 3/3/03] Lt. Gen. Hamid Gul, former head of Pakistan's ISI, also made some interesting comments: "High-profile people arrested in this way are never going to be presented publicly so many people would question if this claim is even true. From the Pakistani public many would say that the US and Pakistan are both in need of claiming success stories and this is what it is. Pakistan needs to prove itself a useful ally and the US administration wanted to claim a success story as it prepares to go in to Iraq." [Financial Times, 3/2/03]


President Pervez Musharraf.
Fortuitous Timing for Pakistan As Well
Reuters, paraphrasing regional expert and journalist Ahmed Rashid, wrote, "As important as the timing was for Bush, it was even more important for Pakistani President Musharraf. The arrest should also help Musharraf in dealing with three major problems Washington was currently 'burying' due to its preoccupation with Iraq, which were bound to surface when that crisis passed. ... These include allegations that Pakistan provided nuclear materials to North Korea, something Islamabad denies, and its confrontation with India over the disputed state of Kashmir." [Reuters, 3/2/03 (B)]
Rashid's third problem was the upcoming UN vote on the Iraq war. Pakistan is facing tremendous pressure from the US to vote in favor of the resolution, and great pressure from the Muslim world and forces within Pakistan to vote against it. [Telegraph, 3/4/03] As Rashid put it, the arrest "would make it much easier for Pakistan to abstain in the (Iraq) vote, because it is doing one duty, so it does not have to do the other duty." [Reuters, 3/2/03 (B)] Other analysts and a Pakistani official voiced similar sentiments. [Telegraph, 3/4/03, Reuters, 3/2/03 (B)]
Pakistan's Reputation Is Revived
Some days earlier, famous reporter Seymour Hersh said the US partnership with Pakistan was "dealing with the devil." He pointed out that Pakistan had been secretly giving nuclear weapons technology to North Korea for years, and may even have allowed some members of bin Laden's immediate family to escape US forces in Afghanistan (inadvertently or not). [Now with Bill Moyers, 2/21/03] A week before the arrest, the Washington Post had an even more scathing editorial. It suggested that a regrouping of al-Qaeda and Taliban forces in Afghanistan is taking place, and this "has been supported by elements of Pakistan's military intelligence agency..." as these forces are given safe haven in Pakistan. "Gen. Musharraf and his intelligence services must get the clear message that such staging grounds cannot be tolerated. If he is unwilling to act against them, the Bush administration must reconsider whether its attenuated alliance with the general is worth the growing cost." [Washington Post, 2/25/03]
This was merely the latest in a rising chorus of criticism against Pakistan. A few months earlier, another Washington Post editorial stated, "Pakistan today is the most dangerous place on Earth, in large part because the administration does not understand the forces it is dealing with there and has no policy to contain them. ... Pervez Musharraf's Pakistan is a base from which nuclear technology, fundamentalist terrorism and life-destroying heroin are spread around the globe. ... Official Washington will not even tell the truth to or about Musharraf, much less hold him accountable for his lies and subterfuge." [Washington Post, 10/24/02]
However, the arrest suddenly changed Musharraf's reputation. Said one analyst, "In US-Pakistan context, it gives Musharraf an extended lease of life. It does help Musharraf retain and sustain external legitimacy." [Reuters, 3/2/03 (B)] Musharraf knew that if he didn't "play ball with the United States, they could transfer their attentions to India, which would be a disaster for him and the state." [Australian Broadcasting Corp., 3/3/03] The Financial Times published an article titled, "Arrest Signals Determination by Pakistan," and others gave similar praise. [Financial Times, 3/3/03] Australian President John Howard was probably the most fulsome in his praise, saying, "May I pay tribute to the stoic, determined and courageous fight of Pakistan and its leader General Musharraf against international terrorism? I do not think there is a world leader who has put more on the line ... than General Musharraf." But others remained very skeptical. The Sydney Morning Herald said of Howard's comment: "Remember this glowing endorsement, for it bears no relation to the emerging truth about the regime in Pakistan, and there is every chance those words will come back to haunt Howard." [Sydney Morning Herald, 3/4/03]


Members of Jamaat-e-Islami burn an American flag in protest of Mohammed's arrest. [Reuters]
Pakistan Discredits the Opposition
If Ahmed Abdul Qudoos was just an innocent fall guy, then why was he chosen? Perhaps it was to discredit the opposition. His mother is a leader of the women's wing of the Jamaat-e-Islami, Pakistan's most prominent Islamic party. [Telegraph, 3/3/03] "Residents who witnessed the raid told reporters that they were surprised because they had never seen any suspicious activities at [the] residence, which was often used for meetings by local Jamaat-e-Islami leaders." [Washington Post, 3/2/03] "The family speculated the arrest was a political ploy to discredit her and the party, which is part of an ultraconservative coalition that came in third in last year's parliamentary elections, largely on the strength of a virulently anti-American platform." [AP, 3/2/03 (B)] Ahmed Abdul Qudoos is also a member of that party. A Pakistani official said that although Qudoos was not believed to be hiding Mohammed with the knowledge of the party's leaders, "this will be an embarrassment to them nevertheless." [Los Angeles Times, 3/2/03]
Mohammed's Early Links to the ISI
Pakistan's government could face a much bigger embarrassment than that facing Jamaat-e-Islami if Mohammed begins to freely talk to his interrogators. As Robert Fisk put it, "Like the man accused of arranging the murder of Wall Street Journal reporter Daniel Pearl, Mohammed was an ISI asset; indeed, anyone who is 'handed over' by the ISI these days is almost certainly a former (or present) employee of the Pakistani agency whose control of Taliban operatives amazed even the Pakistani government during the years before 2001." This appears to be the main reason that Fisk doubts Mohammed has been captured at all. [Toronto Star, 3/3/03]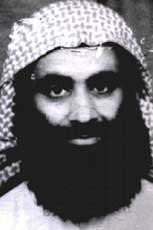 Khalid Shaikh Mohammed, from a 1998 Most Wanted poster.
Fisk doesn't detail his claim of Mohammed's ISI ties. But one can see them by looking deeper into Mohammed's past. The Guardian has reported that in 1993, at the start of Mohammed's terrorist "career," he "funded an operation to assassinate Benazir Bhutto, then prime minister of Pakistan." [Guardian, 3/3/03] Bhutto was the target of two assassination attempts. She blamed them on "zealots" who had "the support of sympathetic elements within Pakistan's security apparatus," [Slate, 9/21/01] in other words, the ISI. Jane's Defense Weekly claims that the ISI assassinated Shah Nawaz Bhutto, her brother, to intimidate her from running for office. She did run and became prime minister in 1988, but the ISI toppled her soon after. [Jane's Defense Weekly, 10/1/01] When she became prime minister again in the early 1990s, the ISI helped topple her a second time. [Asia Times, 3/12/02]
Any doubt that the ISI was backing Mohammed can be removed by reports that in 1993, US investigators found photographs of Mohammed and his brother with close associates of Nawaz Sharif, a man who was prime minister of Pakistan twice in the 1990's (and an opponent of Bhutto). The Financial Times comments that Mohammed and his associates "must have felt confident that their ties to senior Pakistani Islamists, whose power had been cemented within the country's intelligence service, would prove invaluable." [Financial Times, 2/15/03]
That same year, Mohammed was also involved in the bombing of the World Trade Center, working with his nephew Ramzi Yousef. He moved to the Philippines, and in early 1995, again with his nephew, he nearly destroyed 12 passenger airplanes in a plot known as Operation Bojinka. It was widely reported that Mohammed lived a very extravagant lifestyle there. For example, he rented a helicopter one day just to impress a woman he was courting by flying past her. Officials believe his obvious access to large sums of money indicate that some larger network was backing him by this time - but who was backing him? [Los Angeles Times, 6/6/02] Investigators believe Mohammed joined al-Qaeda sometime between mid-1996 and 1998, so it couldn't have been then. [Financial Times, 2/15/03, New York Times, 3/2/03 (D)]
The logical answer is the ISI. The Los Angeles Times reported that Mohammed "spent most of the 1990s in Pakistan. Pakistani leadership through the 1990s sympathized with Osama bin Laden's fundamentalist rhetoric. This sympathy allowed Mohammed to operate as he pleased in Pakistan..." [Los Angeles Times, 6/24/02]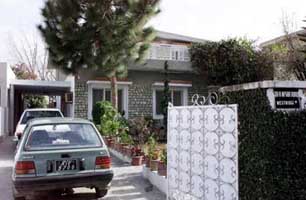 The Qudoos family house, in one of the most exclusive neighborhoods in Pakistan. [AP]
What of His ISI Ties Now?
Though it was not widely reported, Josef Bodansky, the director of the Congressional Task Force on Terrorism and Unconventional Warfare, recently claimed Mohammed still has ties to the ISI, and that the agency had acted to shield him in the past. [UPI, 9/30/02] In the dozens of articles about Mohammed since his arrest, none have suggested his ISI ties. However, the New York Times reported, "Captured terror suspects told Pakistani authorities that Mohammed acted as a link between al-Qaeda and Pakistani extremist groups such as Lashkar-e-Jhangvi and Harkatul Jihad Islami al-Alami." [New York Times, 3/3/03] The British government has stated there are "clear links" between the ISI and these terrorist groups that largely operate in the Kashmir region, disputed between Pakistan and India. [House of Commons, 6/10/02] The New York Times has reported the same in the past. [New York Times, 10/29/01]
Mohammed, if he was captured at all on March 1, an increasingly dubious proposition, was supposedly captured in a Rawalpindi neighborhood known as Westridge. Hundreds of serving and retired military officers live in the area. [Washington Post, 3/2/03, Telegraph, 3/3/03] Tariq Ali points out this is only a few miles from where President Musharraf lives. "This is also where the general headquarters of the Pakistan army are based. This is also where the headquarters of military intelligence, the ISI, are based. So it is quite incredible that if he is who they say he is, that he was literally living around the corner from these people. There is no way in which the Inter-Services Intelligence who has worked with these people for a long time would not have known that..." [Australian Broadcasting Corp., 3/3/03] Another expert said of Mohammed's arrest, "Those who think they have ISI protection will stop feeling that comfort level." [Australian Broadcasting Corp., 3/2/03] Obviously this implies that Mohammed was being protected by the ISI.
Given all that Mohammed must know of the ISI's link to terror in Kashmir and elsewhere, the previously mentioned report that ISI agents shot Mohammed after he had already surrendered on September 11, 2002, should surprise no one. He knows too much.
False Alerts: A Pattern of Deception and Manipulation
The US was elevated to orange alert status for most of February 2002, the second highest category possible. Shortly after Mohammed was arrested, Newsweek reported that a February 26 intelligence report said Mohammed was actively involved in new terrorist plots in the continental US: "He has directed operatives to target bridges, gas stations, and power plants in a number of locations, including New York City." [Newsweek, 3/1/03] This was widely reported, and officials said this warning was partly responsible for the elevation of the alert status. [CBS News, 3/1/03, New York Times, 3/3/03] One AP article was even titled, "Mohammed's Plots Key To Recent Orange Alert." [Associated Press, 3/3/03]
If Mohammed is in fact dead or if he had already been captured in September 2002 or before, then the orange alert must have been fabricated. All the hysteria about duct tape would have been for nothing, except its political effect. It wouldn't have been the first time, as one can see from a February 13 ABC News article which was titled, "Terror Alert Partly Based on Fabricated Information." [ABC, 2/13/03] Some critics have speculated that the alert was raised to muster support for Bush and his plan for an Iraq war. [South Florida Sun-Sentinel, 2/23/03] One CBS article suggested, "There is considerable private speculation about whether the rising scare-o-meter is somehow playing into the march toward war." [CBS, 2/13/03] Rep. Robert Wexler (D) said, "It's clear that this administration uses the threat from terrorism for political purposes." He has suggested this has been a pattern for some time. [South Florida Sun-Sentinel, 2/23/03] One example would be May 2002, when a series of news reports exposed the Bush Administration's failings to prevent the 9/11 attacks. Within a matter of days, the administration released quite a number of terror warnings. [CNN, 5/20/02, Washington Post, 5/22/02, USA Today, 5/24/02] CBS noted, "Right now they're putting out all these warnings to change the subject from what was known prior to September 11 to what is known now." [Washington Post, 5/27/02] Other reports questioned the alerts [USA Today, 5/24/02, Time, 5/27/02], and White House spokesman Ari Fleischer even said at the time that the warnings were issued "as a result of all the controversy that took place last week." [Washington Times, 5/22/02]
What Is Being Reported and Why?
Further evidence that the Bush Administration is manipulating the public through the war on terror can be seen in how Mohammed's arrest has been reported. Obviously it makes sense that news of the arrest should have been delayed to give investigators time to follow leads and capture others. The raid, taking place in the middle of the night with no loud shoot-out, was an ideal situation to keep secret. But it became public shortly after Bush first heard about it. US officials blamed Pakistan for releasing the news right away. [Washington Post, 3/2/03, UPI, 3/3/03]
The Baltimore Sun reported, "Privately, FBI and CIA officials reveled in the success of the operation. But they were careful to keep a low profile so as not to alert any new targets that they might be closing in." [Baltimore Sun, 3/3/03] That statement appears completely false. Numerous other reports indicated otherwise. For example one explained, "Mohammed was carrying the names and phone numbers of members of al-Qaeda sleeper cells in North America when he was apprehended, according to intelligence officials." [AFP, 3/3/03, MSNBC, 3/3/03, Los Angeles Times, 3/3/03] Add the report that Mohammed has already started talking, and what could be more influential in causing terrorists in the US to relocate?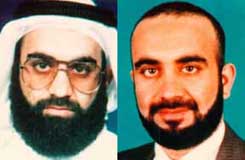 More recent FBI photos of Khalid Shaikh Mohammed.
The Next Attack
It is also being widely suggested that "al-Qaeda cells could accelerate plots in the United States and elsewhere rather than run the risk of being captured." [AP, 3/3/03 (B)] It is said that there is "a danger that al-Qaeda operations being planned could now be swiftly executed because agents would fear exposure as Mohammed was interrogated." [Telegraph, 3/3/03 (B)] It is also said that some of Mohammed's plots appear "ready to be launched against targets in the United States." [Los Angeles Times, 3/3/03]
Prior to Mohammed's arrest, it would have made no sense for an al-Qaeda attack to occur before the Iraq war starts. Such an attack would only strengthen the mood for war, especially if weapons of mass destruction were used. By announcing the arrest of Mohammed when they did, then publicly indicating terrorists must either accelerate their plots or abandon them, aren't Pakistan and the US actually greatly increasing the likelihood of a terrorist attack before the Iraq war? Could they be doing this on purpose to get themselves out of the diplomatic box they appear to be in at the UN?
Furthermore, now that Mohammed is said to be under arrest, we are likely to hear of new intelligence secrets coming from him. It has been pointed out that, "As the Bush administration struggles to build international backing in a controversial showdown with Iraq, Mohammed would also know something that could either bolster or beset that effort: the degree of any Iraqi involvement with al-Qaeda operations." [Christian Science Monitor, 3/3/03] Given everything else we know about the Mohammed arrest story, who would be foolish enough to trust any new reports of anything Mohammed might have to say about Iraq, or anything else for that matter?
Partners in Deception
The Washington Post has noticed that Musharraf "has paid no price for lying to Powell about ending terrorism in Kashmir or about cooperating fully in crushing al-Qaeda. The only consequences for duplicity have been rewards and protection." [Washington Post, 10/24/02] This is because the Pakistani and US governments are lying together to protect their mutual interests. I have argued in a separate essay that the ISI was actually very much involved in the 9/11 attacks. The fact that Mustafa Ahmed Al-Hawsawi was supposedly arrested shows how the US works with Pakistan to hide the crimes of the ISI. That name was an alias used by the convicted killer of reporter Daniel Pearl, Saeed Sheikh, who is also an al-Qaeda and ISI agent who clearly helped fund 9/11. By claiming that Al-Hawsawi is a real human being, Saeed Sheikh's role is covered up. Please read the essay, Sept. 11's Smoking Gun: The Many Faces of Saeed Sheikh, to fully understand the ISI's role in 9/11 and the US's role in covering that up. As that essay shows, all these curious circumstances about Mohammed have a parallel in what happened to Saeed Sheikh after he was arrested for Daniel Pearl's murder.
Was Mohammed killed, was he captured earlier, or is he still free? Was he protected by the ISI and only recently turned in by them as part of some deal? It is impossible to say, because everything is hidden behind the veil of "national security." The Bush Administration has shown that it cannot be trusted, and needless to say, neither can the Pakistani government. But the notion that Mohammed was captured on March 1, in part by ISI agents, and then turned over to the US where he might expose the ISI's role in terror acts from Operation Bojinka to 9/11 and more, is the most implausible possibility of them all.



Copyright © 2002 Center for Cooperative Research. All Rights Reserved.
Except archived material which is under the copyright of the original source