---
---

http://www.yellowtimes.org/article.php?sid=1024





"Kurds play precarious role in northern Iraq"
Date: Sunday, January 26, 2003 @ 22:27:33 EST
Topic: PINR

Power and Interest News Report (PINR)

(PINR) -- With a likely war looming in the Middle East, Iraq's neighbors seem more interested in what will happen if and when Saddam Hussein is removed from power than the exact details of when and how such a removal would take place.

Six countries -- Kuwait, Saudi Arabia, Jordan, Syria, Turkey and Iran -- border Iraq. Three of these countries -- Syria, Turkey and Iran -- have crucial relationships with Iraq. All three have significant Kurdish populations.

The situation in northern Iraq is one of incredible complexity and centers on the Kurds as a displaced people who live in a geographical region covering four different countries.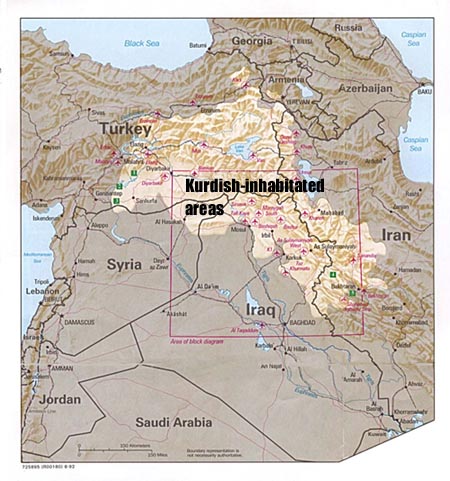 T
The Kurds have an array of enemies -- from agents of Saddam Hussein, to the Turks, to a reluctant U.S. which admits the recognition of the Kurds as a people but which wants their power and influence kept in check, to the newer threat of Ansar al-Islam, a small Islamist group, with perhaps as little as a few hundred fighters, based on the Iraq-Iran border and said to be linked with al Qaeda. This group, though small, simply adds to the complex of factions and relationships in the region, while being just strong enough to distract the Kurds from some of their more pressing concerns by engaging in protracted warfare.
Following a possible air and land invasion by the United States, many officials in these neighboring countries are fearful of civil war and general instability reigning in the Kurdish enclaves of northern Iraq; this area, when included with the neighboring country's respective Kurdish regions, is known as Kurdistan. Kurdistan boasts vast oil deposits as well as minerals like chromium, copper, iron and coal. Oil is found in commercially viable quantities in the Iraqi cities of Kirkuk and Khanaqini, the Turkish cities of Batman and Silvan, and the Syrian city of Rumeglan. This is an important factor in the attitudes of the various national governments regarding the question of Kurdish self-determination and has strengthened the Kurds' own feeling of being treated unfairly.
Of these politically and ethnically disparate countries, Turkey is the key U.S. ally, receiving much in the way of loans and military hardware as well as frequent visits from top U.S. brass, especially Deputy Defense Secretary Paul Wolfowitz.
Ankara's biggest concern is no secret: the prevention of a Kurdish nation in northern Iraq. Turkish officials fear a Kurdish state would incite their own Kurdish population leading to a possible uprising as Turkish Kurds express their solidarity with Iraqi Kurds realizing their long-lived dream of statehood.
Turkey is also hoping for additional loans or the further waiving of debt in exchange for letting the U.S. use their soil as a point of departure for as many as 75,000 troops whose focus would be the Kurdish held areas of Iraq. Ankara has reported that they've suffered $60 billion in lost trade since the end of the Gulf War in 1991 due to Iraq's destroyed infrastructure, and such aid would be of great benefit.
Though Wolfowitz has assured Ankara that a Kurdish state will not be allowed, Washington has cautioned Turkish leaders about any imperialistic notions concerning a de facto Kurdistan. Popular among many Turks is the idea that much of northern Iraq, formerly part of the Ottoman Empire, should be annexed by Turkey in the inevitable power vacuum that will follow after the ouster of Hussein.
Numbering two million, Kurds account for a significant portion of Syria's seventeen million residents and reside in the northeastern part of the country.
Damascus' concerns mirror Ankara's: they fear Kurdish separatist sentiments spilling over into Syrian territory and fanning domestic feeling. The Syrian leadership is all the more concerned with such feelings because of recent events like the first demonstration held by Kurds in Damascus in over 15 years on December 10th, International Human Rights' Day. Kurdish language and culture is banned throughout Syria.
Tehran and the government of President Mohammed Khatami share the same feelings as Damascus and Ankara when it comes to the preservation of boundaries in northern Iraq and the denial of a greater Kurdistan, whether it be de facto or otherwise.
Though most Kurds -- based upon their cultural hatred of Saddam Hussein and the travesties he's committed against them -- welcome a U.S. invasion of Iraq, they are also leery of the U.S.' commitment to their cause.
Following the end of the Gulf War, President George H.W. Bush encouraged the Kurds to take matters into their own hands in an effort to foster domestic unrest in the hopes of toppling Hussein. The Kurds, expecting U.S. support, staged revolts against Baghdad. The Bush administration, in a change of policy, offered no support to the revolting Kurds who were subsequently killed by the thousands.
Leader of the Patriotic Union of Kurdistan (PUK), Jalal Talabani, had this to say about the U.S.' decision: "U.S. policy, in my opinion committed three big mistakes. First, George Bush when he stopped and didn't do anything [at the end of the Gulf War]. They [U.S.] showed the Iraqi people that they want Saddam in power. They don't want to interfere in the general affairs of the Iraqi."
Now, Kurdish leaders have requested gas masks and other protection from chemical and biological weapons, but have heard nothing from Washington.
An atmosphere such as this, where Kurds have long seen the United States as a fair weather ally, complicate their desire to see Saddam Hussein removed from power. Many feel they don't know how long to trust the U.S., and, if Hussein is still in power the next time the U.S. withdraws their assistance, further atrocities could result.
The Kurds also resent the U.S. for their support of Turkey, which is the country that is home to the greatest number of Kurds, numbering about 15 million. Turkey has long crushed Kurdish rebellions in its southeastern corner and has long battled the Kurdistan Workers' Party (PKK).
The main Kurdish parties -- the Kurdistan Democratic Party (KDP) and the PUK -- have been visited recently by not only Moscow's Ambassador to Iraq, Vladimir Tetrinko, but also by U.S. Senators Chuck Hagel and Joseph Biden.
There's also been much diplomatic activity with Iran as of late with PUK leader Jalal Talabani and KDP leader Massoud Barzani visiting Iran and meeting with other opponents of Saddam Hussein to discuss regional security and the governmental system that may replace him.
Though such high profile diplomatic visits are rare in the region, such as the ones by Moscow and the U.S. Senators, it is not necessarily a sign that any kind of Kurdish state is close at hand, but more so a recognition that the Kurds, even with their limited military power, will play an important role in the transition from the Iraq of Saddam Hussein to an Iraq experiencing widespread, post-war reconstruction.
Such a relationship angers many Kurds who believe they are being used because of their alignment with Saddam Hussein and not because the interested parties share a belief about Kurdish solidarity or statehood.
So the struggle for the Kurds will not end with the removal of Hussein. There will still be the issue of Kurdish statehood, a route for which neither the U.S. nor the regional powers have any fondness, combined with the in-fighting within the Kurdish region itself and the continued presence of Ansar al-Islam as a further force for destabilization. The most significant way the Kurd leadership will be able to assert itself may be within a post Saddam, coalition government.
Matthew Riemer drafted this report.
[The Power and Interest News Report (PINR) is an analysis-based publication that seeks to, as objectively as possible, provide insight into various conflicts, regions and points of interest around the globe. PINR approaches a subject based upon the powers and interests involved, leaving the moral judgments to the reader. PINR seeks to inform rather than persuade. This report may be reproduced, reprinted or broadcast provided that any such reproduction identifies the original source, http://www.pinr.com. All comments should be directed to content@pinr.com.]
Would you like to receive each new Power and Interest News Report via e-mail? This would result in one or two e-mails per week. The full report would be included in the e-mail.
Sign up by entering your email address at the "Yellow Times" article link below!
---
- Click here for more Power and Interest News Reports (PINR)
---
This article comes from YellowTimes.org
http://www.yellowtimes.org

The URL for this article is:
http://www.yellowtimes.org/article.php?sid=1024