WHY DEMOCRATS HAVE BEEN LOSING



The piece which follows attempts to address one part of

what is wrong with the red states

- the matter of

"faith" based repression by some people of others who believe or live differently.



My sense is that the Democrats lose because, as Rove and his people keep saying, we "just don't get it". Specifically, we come from the experience of winning the battle over the war in Viet Nam, where mass organization worked, and we are locked into the belief that that is some sort of indicator of what works.

I have long felt that the fight against that war worked for two reasons: Teach-ins in the universities, and the draft. The movement against the war was based on a very large, middle class, educated group of students and parents whose lives were threatened by the war. And the participants were well educated, and interested in understanding the reasons for the war, and why it should be opposed.

Today the people directly affected by the war are volunteers, from backgrounds which value that mindset. There are many fewer of them. Fatality rates are lower, on the battlefield, so far.

But most importantly, the "teach-ins" are occurring, and have been occurring for twenty years or so, in conservative religious congregations. These people understand intellectual history - from a peculiar point of view, admittedly - in a way that those of us attempting to oppose the Bush regime are mostly incapable of dealing with.

That is, they are involved in, care about, and are deeply committed to a set of ideas, which they study in a group setting - much as the students who opposed the war in Viet Nam did.

I believe that

Democrats and progressives have

incapacitated themselves by abandoning the truth that ideas matter.

They matter because they exist in our minds and shape the way we experience reality. So, if we are to regain our sense of "efficacy", our belief that we can have an impact and are morally obligated to have an impact, we have to restore our idea of what it is we believe in, and why it is worth fighting for.

But this cannot be simply understood - it has to be understood at depth, as it is affected by and threatened by opposing ideas current, even - in the US - dominant, today.

That is why I wrote the information about Christian Reconstruction and Dominionism which is copied below.

If we do not understand these ideas as the source of our opponents' motivations and understandings, how can we oppose them effectively?

The other major intellectual current opposing human freedom, justice, and survival today is referred to as Neo Conservatism. That is more than a bunch of nuts in Bush/Cheney/Rumsfeld land. It is an intellectual force. It has to be understood, and countered, directly. It opposes and threatens the progress of the last 400 or 500 years of human history. How many people who oppose Bush understand that threat and are capable of dealing with the people who believe - as a matter of personal faith and ideology - that the freedom of the enlightenment as expressed by Thomas Paine and his predecessors and contemporaries as they created the basis for our form of government is a giant mistake?

Until we begin to understand the ideological backgrounds, motivations, and the institutional tools of these enemies of freedom, we will not be able to effectively communicate that they are not the friends of liberty and democracy, but in fact mortal enemies. They know that they lie about that every day. And they believe, so far correctly, that we "just don't get it", and they can lie successfully until it is too late to do anything about it - the "dreadful gate" out of the slave pens of medieval serfdom will finally be shut, and the genie of the enlightenment will be back in its bottle. Once again Princes and Kings - of oil and international corporations and immense landholdings - will be back in charge, where, in the minds of the neo medievalists, they have always belonged.

Until we understand the great lies of the NeoCons, the theocrat Dominionist Reverends, and the Bush regime, we will be helpless to oppose them.

Jim
DOMINION AND DOMINATION: Bush's Faith and its Consequences for Freedom
If you have the opportunity and interest, I think that scanning the materials described here will give you a very good idea of the part "Christian Dominionism" has played in what has happened to our nation in the recent past, and even more scarily, what may be in store for us over the next four years.
It must be noted that not all people who consider themselves believers in or adherents to the religious movements briefly characterized here will express or accept every element of the system of belief that typifies the movement. But this note is not intended to describe the beliefs of individual members of these sects, but to illustrate their effect on the character and policies of the Bush regime. Some will believe that these descriptions are inaccurate, which I do not believe them to be. Clearly, as they pertain to individuals, in such a brief format the descriptions seem over broad and oversimplified. But please consider that the intent of this note is to lead readers to the more detailed information described and linked to here, and not to be used as an independent authority.
Christo-Fascism is an unorthodox version of Christianity that has its origin in several (roughly but not precisely synonymous) Christian heresies:
Christian Dominionism
Christian Reconstruction
Christian Revisionism
Darbyism
Premillenial Dispensationalism (var., premillenalism, dispensationalist, etc.)
Christian Zionism
Zionist Revisionism

(For a historical review of Darbyism and premillenial dispensationalism, try using Google and searching for links to "Plymouth Brethren")
Adherents to these sects typically consider all other Christian traditions to be liberal, in "error" and "backsliders". The idea of "error" in interpreting Christian scripture is a very old one, but "backslider" gained currency only after the Reformation, during disputes among Protestant sects, as each accused others of "backsliding" from their own supposedly correct and suitably literal interpretation of scripture.
The term 'backslider' occurs even in scripture, at least in some translations, chiefly in the tale of the Prophet Jeremiah, from whom the term "jeremiad" is derived. His use of the term gives these sects 'scriptural authority' for their own use, and precedent for the context in which they use it. Currently that context is use as a basis for condemnation of people and groups who do not conform to the group standards held by the sect leadership to be correct, and for advocacy of theocratic influence over the form and activities of government.
For sources about these groups, besides Google searches on each of the terms I have listed, I would suggest the following:


http://www.intelligenceproject.org
-
http://www.splcenter.org/intel/
This is the best source I know of for tracking the most extremist of the U S's racial and religious hatred organizations, including some extreme forms of Christian Dominionism. If you have a serious interest in this, I recommend you become a member and get the quarterly print "
Intelligence Report
" on extremist organizations' activities.
An article at
http://www.splcenter.org/intel/intelreport/article.jsp?aid=376
outlines the sources of Dominionism in so called "Christian Reconstruction". The movement has at its root the writings of Robert L. Dabney, a disaffected former Confederate military Chaplain, in the late 19th Century. In the last 40 years Dabney's doctrine has been expanded on by Gregg Singer and Rousas John Rushdooney. Much of what you hear on AM radio in the "heartland" is infected with doctrine propagated by Singer and Rushdooney, described in the article as "a merging of the theocratic idea of religious government and a view of the 19th-century Confederate cause as fundamentally right."
Another point worth noting is a tie to contemporary "Celtic romanticism" which has caused leading Reconstructionist propagandists George Grant, Steve Wilkins, and Douglas Wilson to be referred to by J. W. Stiver as "part of a 'Celtic sunrise' within Christian Reconstruction". I have seen shadows ('figures' in theocrat speak) of this in contemporary Celtic fantasy fiction.

The cited article notes that Grant "once described his goals as 'world conquest,' according a 1998 article in the journal Reason. 'It is dominion we are after. Not just a voice, not just influence, not just equal time. It is dominion we are after.'"

"Dominionism" refers to this thread within Christian Reconstruction, Wilson's "Confederation of Reformed Evangelicals" (CRE) and other elements of theocratic Christian qua Christo-fascist movements.


Gregory Stephens'
essay
"
Heartland Morality, American Politics
"
provides an "on the ground, walked the walk, talked the talk" discussion of "the nature of the private morality in the American heartland that is driving politics at home and abroad" from the point of view of someone born and living in Oklahoma. His focus on the difficulty most people in "those blue oases" on the coasts have in understanding conservative mid America is invaluable, as is the context he sets for the vulnerability of people there to the attractions of Reconstructionism, Dominionism, and other extreme features of the religio-political scene.
Mark Crispin Miller's
book
"
Cruel and Unusual: Bush/Cheney's New World Order
" is another good source of information on these movements, and their influence within the Bush regime.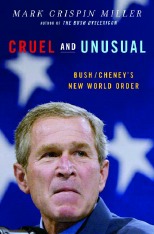 Mark Crispin Miller. August 16, 2004.

CRUEL AND UNUSUAL: Bush/Cheney's New World Order

. New York: W.W. Norton & Company.

"...as Mark Crispin Miller argues here with great clarity and effect, we are in fact living in a state that would appall the Founding Fathers: a state that is neither democratic nor republican, and no more "conservative" than it is liberal. He exposes the Bush Republicans' contempt for democratic practice, their bullying religiosity, their reckless militarism, their apocalyptic views of the economy and the planet, and—above all—their emotional dependence on sheer hatefulness."
Miller captures the essential character of the Bush regime and its most conscious and purposeful adherents, noting that their war against the anti-democratic, anti-rational, and anti-modern tendencies of fundamentalist Islam - which Bush adherents love to call "Islamo-fascism" - are in fact straight up projections, mirror images, of their own fearful abreactions to democracy, reason, and contemporary world civilization. See also interviews at:
In fact, these tendencies on the part of Islam have been imported, and amplified, from the same ideological sources behind the Bush regime and its program. I think the best treatment of the sources, in the anti Enlightenment ideologies of neo medievalist, proto fascist European propagandists, of Islamic and other "Eastern" obsessions with the evils of Enlightenment civilization is found in the essay "
Occidentalism
" by Avishai Margalit and Ian Buruma, and the book which expands on that essay
"

Occidentalism: The West in the Eyes of Its Enemies

".
In essence, the Christian reconstructionists share with radical fundamentalist Islamists (and for that matter Hindu nativist fascism) a visceral opposition to the transformation of civilization that occurred over the last 500 or so years, known as the Enlightenment. The period of transformation is sometimes referred to as "The age of reason". But reason is not the only enemy of these groups - they also insist that the individualism, freedom of expression, and ethnic and religious pluralism fostered by the Enlightenment is antithetical to 'true' religion - in the case of the reconstructionists to true Christian belief. Naturally, for these adherents, ending slavery was liberal enlightenment heresy, and the Civil War was an unjust war against god's people and the writ of holy scripture.
David Batstone
, of Sojourner's, has an excellent brief introduction to
the "dispensational" view of history
and its (im)moral and theological consequences.
One remarkable feature of Christian reconstructionism is its peculiar relationship to the idea of "Truth". For the reconstructionist, Darbyist, 'premillenial dispensation' Christian, there is no truth, except as they perceive the "truth of god".
Accordingly, "reality based" truth, the truth of what one Bush regime staffer disparaged as "the reality based community" is not to be respected. Quite to the contrary, a reconstructionist theologian has held that a known false statement asserted "as a matter of faith" by a Christian is ipso facto "true". If a 'true Christian' wishes a statement to be true, then it is true.
Here, I think, is the real source of GW Bush's certainty, and his ability to communicate confidence in what he says, no matter how irrational: If he believes it, then it is so, just as in the days of Pharaoh.
Katherine Yurica's
web site
describes the influence of
Dominionism
in the Bush administration and the reach and direction of that movement's leadership.
Chris Floyd
references Ms. Yurica's work in an excellent article on the Dominionist "Constitutional Restoration Act". A web search on [ chris floyd dominion domination ] will get you a set of interesting links.
One of these is
my own note
on the subject, which has with it a copy of Mr. Floyd's
article
and his extensive
bibliography
of links to Dominionism materials on the web. It also includes links (see also the table of links and URL's below) to "must read" materials on the ties between the Dominionism (Christian reconstruction) and Domination (Straussian NeoCons).
You might also be interested in these pages from my web site and log:


Pages addressing some of the relationships between Reconstructionist Christianity and Revisionist Zionism:


Related:

Clearly, the temper of the Bush regime and its adherents, as well as its Islamic terrorist opponents, is
focused on religious warfare
, and not on the defense of freedom. This warfare is actually that of a developing Christian reconstructionist theocracy in the US, against Islamic theocratic radicalism.
In contrast to the false assertion by the Dominionists and Neo Cons that this war is in defense of freedom, this is a war of two forms of religious absolutism against other citizens and other religions within their own nations. The warfare of the Islamic radicals against their own religious minorities is overt - a hot war in which no one is safe who is not aligned with the locally dominant group of radicals.
But in the US the war is a cold, secret war. Its nature and significance are clear when studied, but are unreported, and nearly invisible to most Americans. The secular, pluralistic, individualistic, democratic institutions of freedom which have created and supported modern civilization over the last four to five centuries are under direct threat, in this country, by the policies of the Bush regime, by legislation proposed in our Congress, and by violent and secretive Christo-fascist organizations in too many of our communities.
Jim Pivonka
November 6, 2004